Take Your Social To The Next Level
Best Social Media Marketing Agency in Kochi
Social media is a powerful tool for businesses to reach out to target audiences and achieve their business goals. A great social media campaign intelligently and creatively integrates various ways for getting the desired results. The social media marketing services that DesignSages offer help companies increase their sales, brand awareness, customer engagement, and traffic to the website. Our social media experts advise smart social media plans, strategically including all the major social media channels such as Facebook, LinkedIn, Instagram, Twitter, Pinterest, and YouTube. For an excellent social media marketing for your brand contact Design Sages, the best Digital Marketing agency in Kochi, India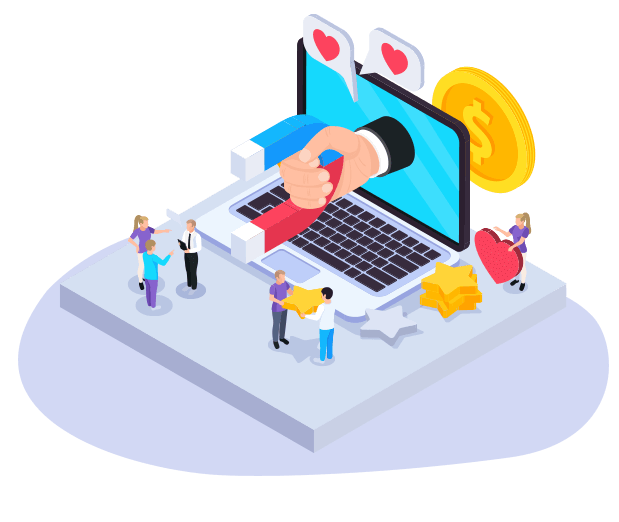 Best Social Media Marketing Agency in Kochi
The Best Decision For Your Marketing Strategy
Top RatedSocial Media Marketing Agency In Kochi
The Simplest and the most cost-effective way of digital marketing is through social media such as Facebook, Instagram, Pinterest, LinkedIn, tiktok, twitter. Social media marketing is using social media to promote a product or a service. It is process of creating unique and consistent content across different social media platforms that keeps the audience engaged and promotes your brand.
A good social media marketing plan can lead you to wider audience, building strong bonds with customers and increase your income very fast and easily. Growth of your website can be tracked while using social media marketing which helps understand your strength and weaknesses as well as the weakness and strengths of your competition. This allows you to change and adjust your strategies at any point in order to attain desired results. Social media is extremely powerful tool for growing your business. when done strategically and thoughtfully it can help your business a great success.
Social media marketing is dynamic, new technologies are developed every minute and requires constant updating and constant revision. Keeping up with the most modern developments in the industry can be challenging, therefore, it is always wise to find an agency with experts to help you keep your business on track while you do your work. If you are interested in levelling up your brand with the experts contact us at Design sages, the top SEO company in Kochi, India
Get Free Quote
Let Us Transform Your Social Media Marketing Say Hello!
5 posts per month
3 social platforms included
Profile creation or review
SEO coordination
hashtag strategy
Page Likes & Followers
No long-term contracts

10 posts per month
4 social platforms included
Everything in Basic
Optimized posting times
Call-to-action posts
Dedicated writer
Post boost-1
Run Ad Campaign-1

15 posts per month
6 social platforms included
Everything in Essential
Authoritative link earning
Advanced profile setup
Video post-1
Post Sharing in groups
Find The Best Solution for your Business.